FastGIS 2.0 OFFERS MORE HORSEPOWER - LESS PRICE.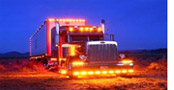 When comparing GIS mapping applications that connect-searchable property databases with radius demographic and business reporting analysis, FastGIS™ 2.0 Professional clearly out powers the competition.
More Power at Less Cost
FastGIS™ 2.0 Professional meets the needs of the most complex requirements in the industry by providing any size organization with the powerful capabilities of a custom GIS application built on an ESRI ArcGIS platform rather than "out of the box" and over priced Google "mash up" applications being offered by the more featured "name brand" vendors as GIS capable technology.
FastGIS™ 2.0 makes your searchable property database a robust marketing toll with the horsepower of an "18 wheeler" at the same cost or even less than most "name brands", who can only provide the GIS capability equivalent of a pickup truck.
If you want true GIS capability let FastGIS demonstrate why it is a powerful tool for your prospect recruitment efforts and a time saving application your research and business development team will appreciate.
FastGIS adds real GIS horsepower to your website.

The Greater Wichita Economic Development Coalition (GWEDC)
has launched its new buildings and sites database utilizing the custom designed FastGIS™ 2.0 Professional application built by FastFacility™. Branded as
Location Scout
, the GWEDC FastGIS™ database covers a vast region of 10 counties and approximately 100 communities in Kansas, and is one of the largest regional economic development GIS applications in the Midwest..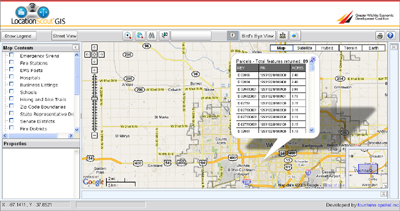 We'll show you how your organization can benefit by using FastGIS to more effectively market your community against the competition.
Please fill out the form below and we will contact you to arrange a demo. All requests and contact information will remain confidential and private and will be used only for the purposes of contacting you to arrange for a FastGIS demonstration.

FASTGIS™ 2.0 PROFESSIONAL ADVANTAGES
Most advanced and affordable GIS application to date for the Economic Development and Planning professions
• Built on the latest ESRI GIS technology, ArcGIS Server 9.3. Most other Economic Development applications are built on ArcIMS, which is more limited and no longer supported.
• Sophisticated measuring tools providing point to point analysis "on the fly"
• Demographic Distance and Drive Time Radius Reports from anywhere on the map
• Larger map display, providing better map clarity and map extent with a tighter zoom-in level for a more professional and pleasurable user experience.
• Menus are collapsible providing even better map look and feel
• Superior performance based on efficient and modern design architecture
• Mobile access and smart phone capabilities in the field giving your staff the tools to respond to prospects more quickly.
• Birds Eye (2-300 angled view), Google Street View and Google Earth integration providing a true to life visual experience – not just from a thousand feet up but view buildings from angles and the side.
• Web services that enable us to update your data in real time bringing you advantages that increase data quality and lower maintenance cost.
NV Energy, the state's primary energy provider, will make the switch from a "brand name" GIS provider to FastGIS™ 2.0 Professional in February 2010 and as a result will dramatically increase their organizations ability to perform deep analysis of their GIS layers and demographic and business data. NV Energy Site Locator built by FastGIS will now have available a feature rich custom and professional class GIS application built on ESRI ArcGIS Server technology and fully integrated with advanced Google mapping.
This is the first statewide application in economic development built on an ArcGIS platform that will incorporate granular GIS layers throughout the region giving NV Energy more flexibility and more capability. Previously their site provided only a simple Google mash up interface with a simple property search.
Increase Efficiency and Drive Down Your Cost of Doing Business
By making the switch to FastGIS™ NV Energy will significantly reduce their annual licensing and maintenance costs and gain a far more productive and inter active data base for their prospects. NV Energy will bring their ongoing costs down to an economical level that will satisfy a critical budget concern and allows them to keep this application up and running that they weren't able to justify with their previous GIS provider.
Next Newsletter: FastGIS will soon be launching new applications for several organizations. Look for these announcements, including a Case Study of the new FastGIS solution for Nevada Energy.